Hello Flist!

Yesterday was Thanksgiving Day, a day not all of us celebrate, but we all know about, thanks to, yes, TV shows (that's where I've learnt basically all I know about America, and I hope it will be enough for when I'll have to go through my Naturalization Process LOL, kidding, I'll study for that...).

Even if not all of us sat down eating turkey (or meat substitutes), mashed potatoes and pumpkin pies, there's one thing we all do toward the end of the year... We look at the year that just passed, and think about what are we thankful of... so:


- What are you thankful for?
- What is the best thing that happened to you this year?
- (For the US friends) What is your favorite Thanksgiving tradition?
- (For the non US friends) If you were to celebrate Thanksgiving with your family, what do you think it would happen?
- Some american shows do Thanksgiving episodes... What is your favorite one? What's the best scene?


This has been a pretty insane year for the World: we lost great artists such as Alan Rickman and David Bowie, the US Presidential Election happened, Britain left the UE, the Zika Virus, Hurricane Matthew, The Heartquake in Italy, the attacks in France and Bruxelles,... I'm sure we're ready to put this year behind us, but I'm sure there's something to be thankful for...

The Juno spacecraft reached Jupiter. Tiger and Panda numbers are growing. Volunteers in India planted 50 million trees in 24 hours. LEONARDO DICAPRIO WON AN OSCAR! There's a new Harry Potter book and a new Harry Potter Movie. Gilmore Girls is Back! Basically all that is Netflix is so good it hurts! Huge steps were made in the medicine world on fighting cancer and alzheimer. All the new memes, all the new books, all the amazing movies that came and are coming out,... I can go on, because I refuse to stop at the bad stuff!

- What are you thankful for?
On a personal level, I'm thankful for my family. I'm glad they're all okay and happy. I'm thankful for my husband, who's the best human being on the planet and I snatched him. I'm grateful for my friends, even if they had some bad days, weeks, months they're still fighting and doing great all considered. I'm thankful for everything I have, and for not taking anything for granted. Also David Tennant's face... I'm always thankful for that!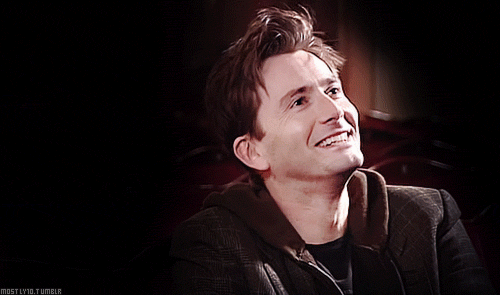 - What is the best thing that happened to you this year?
The best thing that happened is that I decided to quit my job and I did it! I'm still recovering from the damage it made, but I'm getting better!!! It was a huge thing for me!

- (For the US friends) What is your favorite Thanksgiving tradition?
I only spent one thanksgiving with my american family and it wasn't as I expected... Being italian I was expecting WAY MORE FOOD (LOL) and some drama, but it was a pretty chilled evening. I can't wait to be able to create a Thanksgiving Tradition with Eric... I only know it won't have a Turkey in it, because Eric is vegetarian and I don't like to cook animals...

- (For the non US friends) If you were to celebrate Thanksgiving with your family, what do you think it would happen?
I imagine it to be a lot like Christmas minus the presents. My dad would cook so much food to feed a village, and we'll all eat it... I can't imagine my dad cooking a turkey though... He would probably change the rules and make something else (I know him xD), but yes, it would be all about being together and eat xD

- Some american shows do Thanksgiving episodes... What is your favorite one? What's the best scene?
Friends! Friends had the best Thanksgiving episodes! HIMYM had some pretty good ones too but I still can't forgive them for what they did with the finale! The best Friends Thanksgiving episode is "The One With All The Thanksgivings" (Season 5). When they all look back at their worst thanksgivings... I love flashback episodes and I loved the whole situation with Monica nad Chandler being together in secret and seeing flashbacks of her having a crush on him... The best scene is (since I'm a die hard shipper) Monica goes to Chandler and dances with her head in the turkey, and he says to her he loves her (and than takes it back because it's too soon... just ot say it again a couple of episodes later)! I love that episode!!!

Have a happy Black Friday (that's something I definitely want to try LOL)!!! :D I have Eric doing some book shopping for me in Florida! Fingers crossed!!! :D