Ed eccoci al quarto giorno! Eravamo rimasti alla stage door e all'attacco dei flash!
E avevo lasciato il piccolo spoiler dell'autografo! Ma il programma sarà davvero il mio? Sarà un fotomontaggio... mah
Day One: "Anche se non mi chiedi nulla ti aiuto lo stesso!"
Day Two: "Starbuks Starbuks STARBUCKSSSSSS"
Day Three: "Stratford, Hamlet and David Tennant"
Day Four:
"Come On Take a Picture With Us"


Tralascaindo il fatto che scendendo dal letto la mattina mi sono quasi uccisa visto che avevo le valigie ai miei piedi e dovevo spegnere la sveglia dall'altra parte della stanza... avevamo qualche ora prima di tentare nuovamente con la stage door e questa volta eravamo davvero sicuri che sarebbe uscito...
Prima colazione all'Inglese e non mi aspettavo che mi sarebbe piaciuta!! Svegliarsi la mattina e mangiare uova e pancetta... invece davvero ottima e se non l'ho ancora detto i due padroni del B&B erano carinissimi e gentilissimi! Si chiamavano in continuazione
love
o
darlin
' carinissimi davvero!
Giriamo per qualche negozio ed in uno troviamo qualcosa di meraviglioso... a sole
35 sterline
: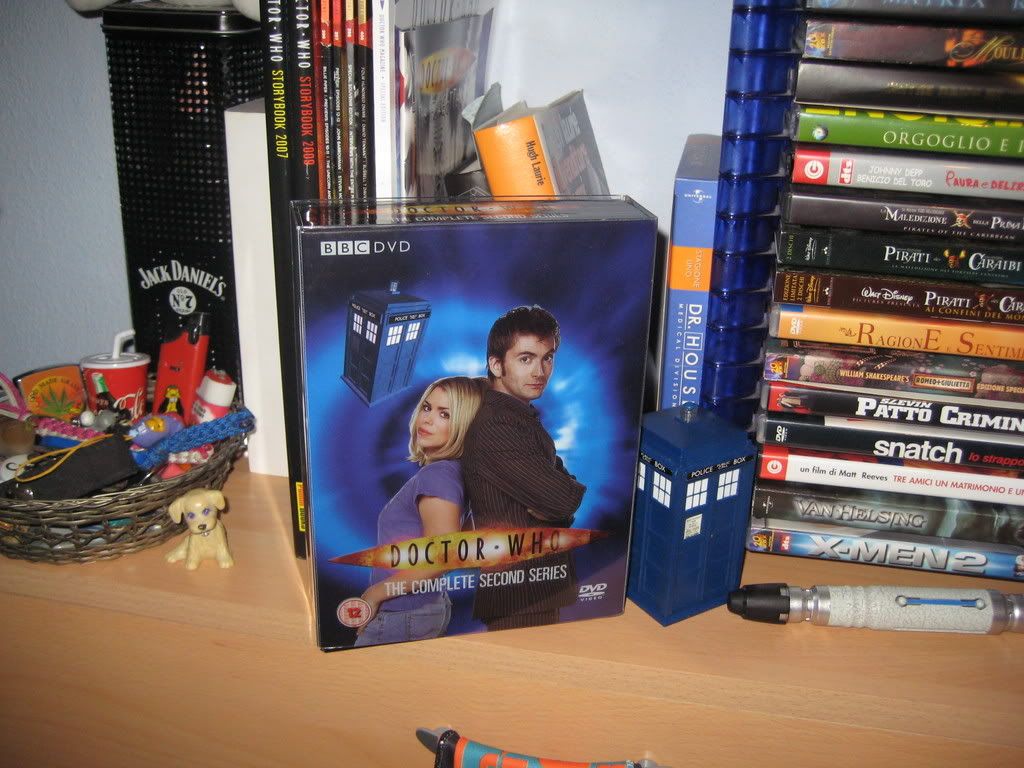 Come non comprarlo??? e io mi prendo anche
Takin' Over The Asylum
perchè
Casanova
mi costa meno su Play LOL!

Facciamo ancora un giro ma Stratford è quella che è basta poco per girarsela tutta quindi ci dirigiamo alla stage door con 3 ore e mezza (se non di più) di anticipo e in effetti siamo proprio i primi!

Dopo poco arriva una bambina con il padre e un'amichetta che sicuramente sarà la prossima fiamma di David ma per ora ha solo 5 anni però è carinissima biondina adorabile insomma! Attenta Georgina XD

Passa il tempo e arriva anche l'australiana Wanna Marchi che si apposta: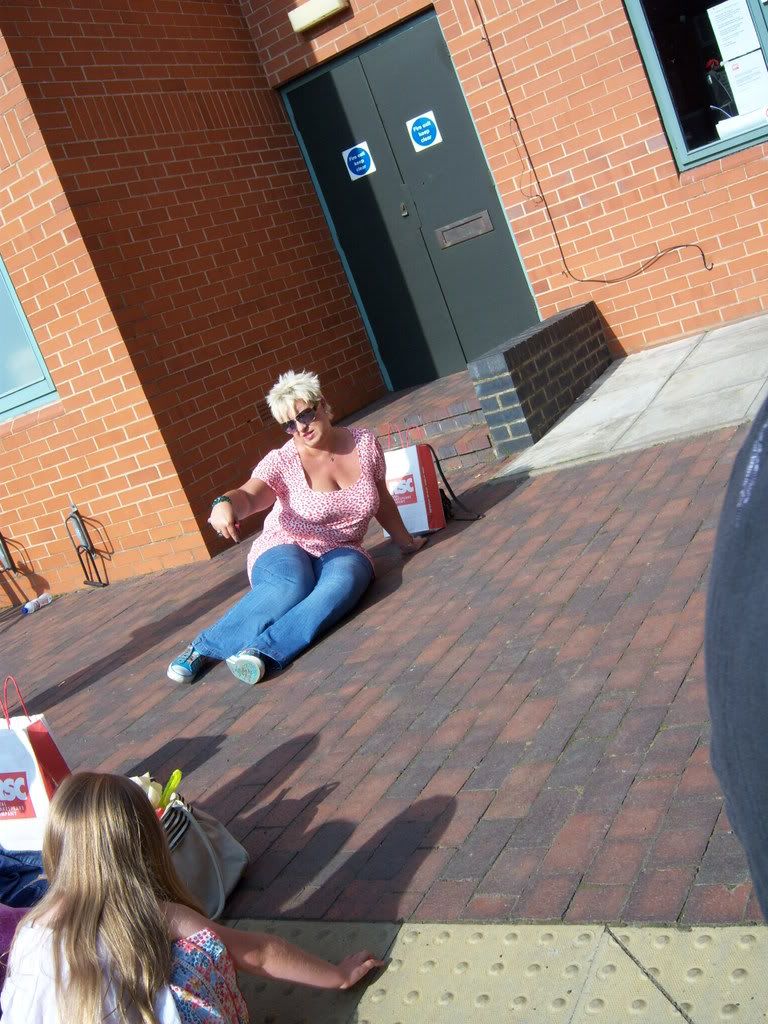 Nb: La biondina è lafutura rivale di Georgina XD

Nel mentre esce la bodyguard di David e scherzosamente ci dice "ma che ci fate qui? tanto non esce nessuno neppure oggi" e continua a ripeterlo imperterrito ma è talmente adorabile al contrario della vecchiaccia dela sera precedente che con i suoi scatch ci fa passare il tempo più velocemente... appena mette le transenne noi ci troviamo nell'ultimo angolo quindi una posizione perfetta perchè siamo dal lato più lungo quindi possiamo fare più foto!

Il padre della bambina non adorabile ha portato a David da firmare la sua biografia non autorizzata q noi aspettaiamo con ansia di vedere la sua reazione!

E' arrivato il momento. La porta della Stage Door si chiude e noi ci prepariamo con le macchine fotografiche con lo scatto a ripetizione! E Fede viene minacciato e posto su un muretto con la telecamera in mano! Ed esce! Ovviamente di corsa! E qui direi che potrebbero benissimo parlare foto e video al mio posto perchè davvero non potrei aggiungere altro se non una serie infinita di Awww *_______*


E come prevedevamo ha addocchiato la biondina infatti lei gli fa un regalino dicendogli che anche lei ha recitato con una corona poco tempo prima e lui le dice che è dolcissima e la ringrazia del regalo!!! Alla fine al tizio della Biografia ha detto che non l'avrebbe firmata perchè l'autore non l'abveva neppure mai incontrato e che era piena di bugie e cavolate ma l'ha detto in un modo assolutamente lol!


Nel momento in cui è arrivato da nio che eravamo alla fine del giro di autografi Veruska (Dio quanto ti adoro) ha fatto notare che noi eravamo italiani dicendgli "grazie" e poi traducendoglielo! Lui ha detto che qualunque cosa esca dalla nostra bocca suona benissimo, infatti Fede mi aveva detto che gli stranieri quando sentono gli italiani parlare è come se sentissero un canto! E io che pagherei per avere un'accento inglese LOL! Btw ci ha salutato con un "Benne, molto Benne" a cui noi abbiamo fatto il coro ed è stato fenomenale davvero! Tra l'altro a pochi passi da noi c'era un francese che si è fato firmare l'autografo ma a lui non è stato detto Alonsy XD probabilmente se gli avesse detto che si chiamava Alonso... XD no, non c'avrebbe creduto nessuno! Comunque sia l'auografo c'è stato! Sì sì è mio l'autografo della foto ;)!

| | | |
| --- | --- | --- |
| | | |
| | in questa è meraviglioso! | |
| | il mio autografo | |
| | | |
N.B: Adoro quella in cui corre via *__________*
Presa dall'euforia del momento ho visto la bodyguard che metteva via le transenne e chiedendo conferma e senza aspettare una risposta dalle altre ho urlato in tono del tutto amichevole (e non di comando come si dice ingiro XD)
"come on, take a puicture with us"
penso di avergli fatto venire un infarto ma è venuto e abbiamo fatto la foto XD alal fine era la cosa che era rimasta di più vicino a David quindi me lo sono stretto forte! XD
Verso le 6 siamo andati a prendere il treno, questa volta solo io e Fede per tornare a Londra! E nell'attesa abbiamo chiamato al telefono Marky visto che stavamo speculando sulla sua voce da un pò e poi mancava davvero solo lui alla nostra combriccola :( ma ci rifaremo Marky, ci rifaremo a Cardiff! XD
Durante il viaggio ho reiniziato a sentire la stanchezza, infatti abbiamo mangiato un panino veloce... no, io ho mangiato un panino veloce perchè Fede aveva ancora sullo stomaco
Fish and Chips
... voleva a tutti i costi mangiarlo e... penso che non vorrà provare mai più una simile esperienza XD!
A nanna alle 10 come due enormi
loooooooseeeeeers
XD
Ma avremmo recuperato il giorno seguente ;)
TO BE CONTINUE
...
All the Pictures
HERE
Current Mood:
geeky
Current Music: Marc Anthony ft Tina Arena - I want to spend my lifetime loving you