I told you I would be quick!
I started it after
Benefits
but then I decided to wait till the end of the season for more footages, hoping in something about Robin's POV and the last episode was just what I needed! The song was perfect in
Benefits
but now, with
The Leap
is... I can't find a better word! :)
It fits perfectly with every footage! I'm kinda proud of this music video and I really hope you like it too!
The Video propably will be muted or deleted by YouTube so I uploaded it on IMEEM, is the same trust me! :)
Barney/Robin - No More Wishing
by Hayley Taylor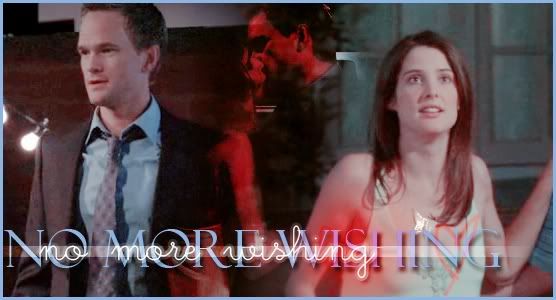 Characters:
Barney and Robin
Spoiler:
How I Met Jour Mother 4x24 The Leap
Song:
Hayley Taylor - No More Wishing
Clips from:
How I Met Your Mother
Note:
This is for
mrbartleboom
, who learnt to love this couple few months ago and they became one of his favourite ships ever!

(if you want to know about me, my creziness and mi vids folow me on twitter: http://twitter.com/erychan86
)
Description:
Barney and Robin are meant for each other since... well: ever... but they have "problems" with the emotional stuff, she is in denial all the time and he is extremely scared to let himself go (all because of Shannon) so they live their life wishing. But, one day, they'll face their feelings for each other and then there will be no more wishing.
(
Collapse
)
Please leave a comment!