This Pre Winter Session Exam at university is killing me! Wednesday I studied for almost 15 hours! I went to bed at 4am and the next morning I woke up at 6am for being at universty at 8am and the exam was at 5pm... 8 hour of revision and 1 for lunch! It's unbelievable but
I'm still alive...
I think... wait, let me check it out... ok I'm alive YAY!
My mind was so full of sentences of the
Court of Justice
that I had to delete some unecessary notions like my name, where do I live and how to drive... the last one it's not a joke XD
After this devastating day I took the underground and when I was in the neighbourhood of my car I was so puzzled that I forgot where was the car, when I remembered it I sat and I watched the wheel for I think a minute without doing NOTHING! My mind was empty I remembered only names like
Caixa Banque, Arduino, Chen, Centros
and their "stories"
When I studied I've found this sentence of the Court of Justice about a case:
Kunquian Catherine Zhu and Man Lavette Chen / Secretary of State for the Home Department
(Yes I remember the entire name) Mrs Chen, a Chinese national went to Belfast, UK, in order to give birth to a child. Her daughter, Catherine, obtained Irish nationality since under Irish law any person born on the island of Ireland may acquire Irish nationality thanks the IUS SOLI. However the child was not entitled to obtain either British nationality (she was Irish not British) or Chinese nationality. Mrs Chen and her daughter are living at present in Cardiff, UK, where Catherine receives private medical services and child-care services in return for payment. Having been refused a long-term residence permit, Mrs Chen and her daughter lodged an appeal. The Immigration Appellate Authority asked the Court of Justice to give a ruling as to whether Community law confers on Catherine and her mother a right to reside in the UK... (I can hear you yawn! Ok, I stop it!) Btw...
Catherine
...
Cardiff
... I thought about
Catherine Tate
!
LOL I'm addicted so badly to DW!
Btw isn't only about the nights spent to study instead of sleep but I become a mess... Till the yesterday night shower my hair was a mess all frizzy and not so clean they didn't sparkle as always :( and my skin? A mess too, and I don't want to talk about my eyebrow... It's not that I'm vain, trust me is not like this I was really a mess I was unwatchable XD
And my way to speak... was fast and full of legal terms even when I spoked with my friends... And my jokes? All about law... but this wasn't a big problem cause I've spent more or less all the week with my colleagues so when I said something like "... this is mean I'll ask for an European warrant." they didn't watch me like I was crazy... we were so tired :(
But now I really have to take a break for exams... but I can't yet!
However I was being such a good girl in this days and yesterday night I found into my mail box the Einstain and Eddington DVD! I'm so happy!!! Now I can do a better review (because the subtitles) watch it in HQ all the time and do my music videos aaaaah! So happy!
I have another exam Tuesday afternoon... I hope to find the #3 issue of The Forgotten in my mail box that night! :)
A friend of mine tells me that the students of law use to write a lot on their law books... look at mine... oh gosh XD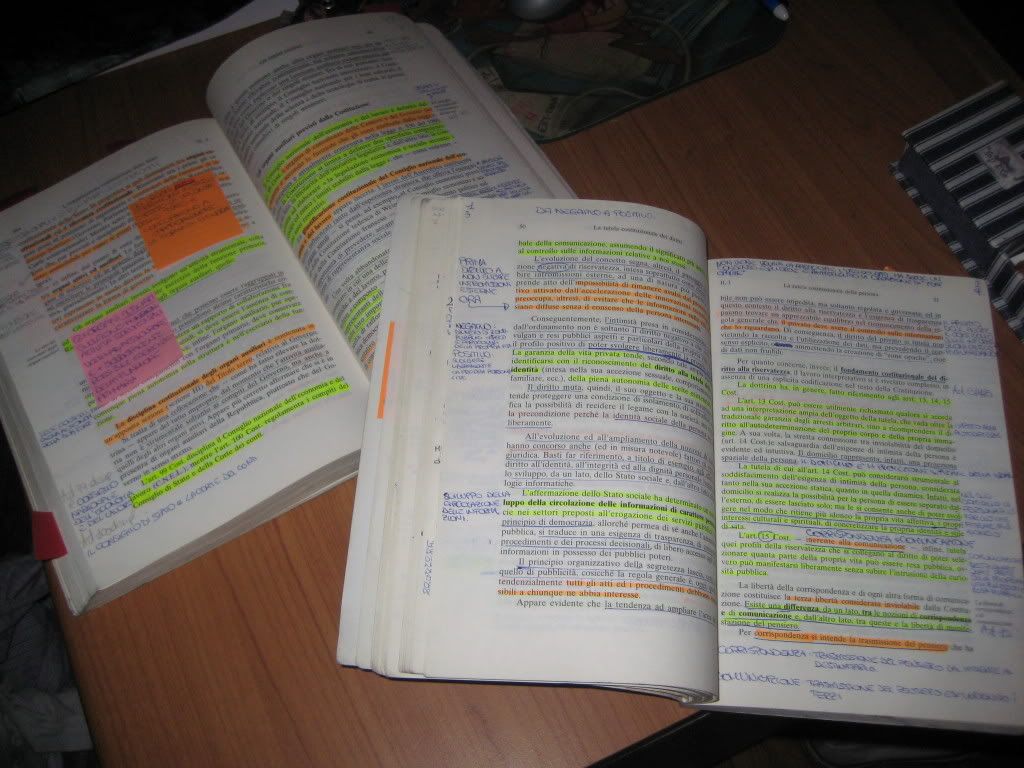 Btw after the longest shower ever yesterday night (I think that maybe I used all the cold wather of my entire country XD) I was regenaerate my hair now are as always (a mess but not as before) my skin is again normal and my eyebrow fine!
Few days ago... before all this madness I watched 2 movies! And wow! They were so nice!
Such a big cast in this one: Charlie Cox, Claire Danes, Michelle Pfeiffer, Robert De Niro, Sienna Miller, Peter O'Toole, Rupert Everett, Ian McKellen!
And oh my god how beautiful is Claire Danes! Her hair are amazing so blond so straight *_________* And Robert De Niro in that role was brilliant I laugh so loud in his scenes, I laugh a lot in this movie it was so funny but also so sweet, the story between Yvaine and Tristan was cute and they had a lot of chemistry.
I descovered that this movie is an adaptation of the acclaimed fantasy novel by Neil Gaiman, that I'll definitely read!!
Event the songs were cute! I can't stop to listen We Can Rule The World by Take That.
When I saw Peter O'Toole I yelled "the old Casanovaaaaa" but he died almost immediately so there was few scenes with him and I yelled only one time! His sons, (after their deaths so I should tell ghosts) were so funny... expecially when they saw on Yvaine neck the necklace and they starts to stared each others LOL! You have to see that scene for understand me!
The first part of the film is dedicated to establishing the world in which these characters live, their history, their powers, their goals in this particular story. After that the film truly takes off, really! And I loved the first part so can you image?
The film's touch so many character and story elements, Robert De Niro was so perfect in his role... and totally unexpected, I mean how vould I image De Niro in that kind of role? And Michelle Pfeiffer'as the villain was spectacular too! Charlie Cox and Claire Danes are a remarkably wonderful pair to watch on screen as I said before! They're so cute and their love story is so romance and epic! Love it!
There are even some spectacular scenes of action and adventure for example a swordfight with a dead body and an big glass explosion... wow! Fantastic!
Oh I cryed so much I expected the "not so happy ending" from the beginning when she said: "Vice leads to difficulty, virtue to reward. Bad characters come to bad ends. But in life,bad characters often thrive. Take yourself. And a novel must show how the world truly is, how characters genuinely think, how events actually occur. A novel should somehow reveal the true source of our actions."
And than when near the end she said:
- Will all your stories have happy endings?- My characters will have, after a little bit of trouble, all that they desire. The good do not always come to good ends. It is a truth universally acknowledged.
At the beginnign it was all like Pride and Prejudice I didn't know nothing about Jane's story! It was intresting and so intense!
I loved the kiss scene in the woods when they fight and then he kisses her!
The Austen family are more familiar types. Mrs Austen is Mrs Bennet with a little less mugging and squawking than usual. Jane's fond sister, Cassandra, is Jane Bennet without the luck for married love eludes her, too. And Mr Austen is like Mr Bennet!!!
Another great movie!
But now I have to go! Tonight I'll go out with my friends for a pizza! I hope to not talk about law!
...
Current Mood:
tired
Current Music: Take That - We can Rule The World