Hi guys/gals!
It seems an eternity since I wrote something about myself. I always talk about TV Show. LOL.
So, yersteray evening I hunged out with a bunch of friends for a pizza and a movie. We went to see Australia with Hugh Jackman and Nicole Kidman! When I go to the movies usually I like to see more than one movie, it's one of my things, and none of my friends have this in common with me... but after Australia, in that sense, all of us were completly satisfy, cos you can split it in 2 different movies, I can't say that I didn't like it cos there was so many good things: the stories were very nice, the kid was very cute and sweet, Nicole was stunning and Hugh was often shirtless, and this thing only can make a film GOOD!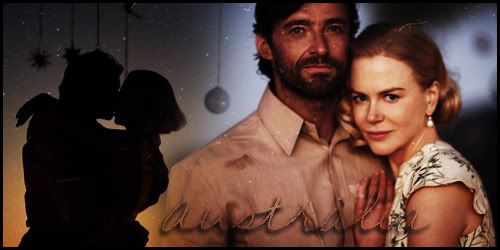 After the movie we went to the bar for a drink and It was great cos I'm studing a lot in those days, and at home I feel like in prison. We talked about the movie(s) and rubbish till late. At 2 a.m. I was at my car and I met an old friends who was smoking a cigarette, so we talked since 3-and-something in the morning. He went to Japan for the new year and it was an amazing experience, I'm very happy for him, I'll see him the next week after the exam and I'll see the photos yay!
At home before to fall asleep I watched a pokergame on my PC because of Neil Patrick Harris and Matthew Perry. It was hilarious. I love those two. Look: Celebrity Poker Showdown - Neil's Doogie Howser Impression two of my celebrity crushes on the same show... awww... and take a look at this: Neil Patrick Harris prank calls Mekhi Phifer I love this man! I really love him!

This morning I woke up at 10... I felt horrible in so many ways, I opened the book and I couldn't read a word so I took my bike (I didn't care about the cold) and I went somewhere without a destination but my trip was brief cos it started to snow... AGAIN... I really love snow but please stop. All the week snow or rain, I forget the sun... I miss the sun! I WANT THE SUN!
And Now I can come back to my books... blimey!