Hi there! I promise a post and here I am... posting! YAY!
But
, I'm sorry, I know that a lot of people in my flist are not Italian but it's difficult to me write all this stuff in English so I'll made a sum in english and the "real" post in Italian with the pics. I'm really sorry but if you want some explanations DON'T esitate and ASK ME, I'll be glad to try to eplain everything! ;)
Before to start I have to share my joy about one thing:
I have the whole collection! I can't wait for the Doctor Who Specials Box Set! I already know that it will be brilliant!
But now let's talk about a place, a place called Birmingham and a thing called T1.
river__
's cos the plane was the day after, early in the morning. We left her palce for Bologna the next morning at 5 a.m. and at noon I was in the hall of the Hilton in Birmingham! Few hours later I saw at the reception
Felicia Day
but I couldn't believe it so I thought thet maybe was a sort of allucination but when, few seconds after, I saw
Zachary Levi
and
Adam Baldwin
I was all
WTF, it's true
!
Later, that evening Sean Harry (the host) introduced to us all the stars:
Jonathan Woodward
,
Dominic Keating
,
Georges Jeanty
,
Tom Lenk
,
Mark Sheppard
,
Miracle Laurie
,
Dichen Lachman
,
Felicia Day
,
Adam Baldwin
,
Zachary Lev
and
Summer Glau
, I was so excited! Me and my friends took a drink and then we went to bed and that night I saw at the
Justin Lee Collins Show
John Barrowman
and I was laughing out loud for that interview. That man is brilliant!
The day after I took my first photo with someone famous:
Zachary Levi
!(Good choice, don't you think?) I was.. I don't know how to describe it... something between scared and excited... when was my turn I ask him if I could hug him and he said
"Of course you can, aww we hug"
he was so cute and I cried a little after the photo cos I was so
shaked
... lol, after I took a picture with Adam Baldwin... Gosh that man is HUGE (I told him at he autograph session lol) and after one with the sweet Felicia and one with the indescribable Summer.
After I met Felicia for the autograph session and we talked about
Dr Horrible
(cos
laz75
gave the DVD to me for my birthday [thank you again *___*]) and about
The Guild
and other stuff! She is amazing! Adam and Zach at the
guest talk session
were so cute and funny. Someoone asked 'em to kiss but they instead talked about all the things that they love about the other... so sweet!
The day after I took another pic with Zachary and I changed religion fot the
Church of the Eleventh Finger
(lol) Jonathan, Dominic and Georges baptize us with wiskey and coockies. Was a hilarious cerimony! Few hours later Zachary Levi leaded us to Subway where he made sandwiches for all. I told him:
"You're so cute"
and he replied
"YOU're so cute"
(the video about this conversation is
here
thanks to Morry)
In the afternoon there was the second autograph session and there was a
give me 5
between me and Zach cos I told him that that was my first Con and he was my first pic with someone famous! He was all YAY!
That night was my last occasion to saw 'em and I went (thanks to
darkbeba
) to say goodbye to Adam... few minutes after he saw me in the hall with my friends and when our looks met he opened his arms in a
"come here"
way and I run into those arms, I will never forgot his smell, was a mix between leather and beer! Awww. I told him that I love him and he said that he loves me to XD XD and then I told him "come in Italy with me" and he replied that he knows only one phrase in Italian:
"cosa costa questa macchina"
("How much for this car") lol. I said goodbye to Zach too and we hugged again!
The day after was all over! We met Felicia in the hall and we leave the Hilton for Cardiff!
Uh, I forgot, the surprise guest was
Thomas Dekker
but he didn't come, he couldn't because of a movie :(
(if you want to see the pics there are in the Italian part!)
Questa è la storia di come Ery tornò a Londra e di quanta fortuna ebbe... talmente tanta che neppure ora ci crede e sta a pizzicarsi e a riempirsi di lividi per controllare! Ma ora basta parlare in terza persona, yep, sono tornata a Londra finalmente, dopo... beh troppo tempo meglio non pensarci... e, come potrete ricordare da quella sfilza di foto infinita, ero andata a vedere
David Tennant
in
Hamlet
(
riecco il link
se volete rinfrescarvi la memoria e sbavare un pochetto)... ma questo tasto lo toccheremo nel prossimo post... ahaha sono cattiva eh? Ma prima di mandarmi a fanculo e chiudere la pagina aspettate ancora un pò che ne vale la pena...
Il 23 Aprile mi sono alzata alle 8... e la sera prima, ovviamente, ero andata a dormire alle 3 per colpa di
mrbartleboom
(Marky) e delle nostre infinite conversazioni senza senso su MSN, ma quella mattina ero di uno sveglio esagerato, il che è stato un bene visto che non avevo ancora preparato al valigia lol! Tipico eh? Ma almeno la sera prima avevo fatto la lista della roba da portare e visto che quì a Genova faceva parecchio caldo in quei giorni ho riempito la valigia di magliette a maniche corte e canottierine, YAY, ma appena partita ho avuto un flash del cast di Doctor Who a Cardiff con quei loro cappottoni enormi blu e ho iniziato a preoccuparmi. Con l'arrivo a Verona le mie paure sono aumentate. Pioveva e faceva piuttosto freddo e quando
river__
(Morry) ha scoperto il contenuto della mia valigia mi ha guardato con quella tipica espressione - che così di sovente incontro negli occhi della gente -
"Ery?! Ma sei pazza?!"
ma su questo posso spoilerarvi: non ho sofferto freddo per niente... tranne un giorno, ma quello era un caso particolare! (ma se ne riparlerà... lol già vi immagino a leggere con delle espressioni alla
"WTF, ma se rimanda sempre tutto a dopo cosa diavolo scriverà in questo post?"
)
Così il 23 sera
darkbeba
(Beba),
laz75
(Laz), Morry ed io siamo andati a dormire... tardi... per poi svegliarci alle 5 del mattino per prendere il treno che ci avrebbe portato a Bologna per poi prendere l'aereo per Birmingham.
Partenza: Bologna (BLQ) alle 10:05
Arrivo: Birmingham (BHX) alle 11:15
Ovviamente io ho lasciato i preparativi del viaggio compeltamente in mano a Morry e Laz quindi il fatto che alloggiavamo all'
Hilton
è stata una bellissima sorpresa! YAY!
Ovviamente appena ho posato il primo piede sul suolo Britannico mi si è aperto sul viso un sorriso da ebete che se ne è andato appena ho riposato l'altro piede sul suolo Italiano... meh!
Abbiamo trascinato le valige nella Hall e poi siamo andati a mangiare un panino lasciando sola la povera Beba a fare la guardia ai bagagli...
awww quanto mi mancava Subway e quel cavolo di tonno squisito! *____*
Tornati in albergo abbiamo aspettato l'arrivo di Giorgino che, fino alla sera prima, era ancora in forse sul se venire o meno e lol ce lo siamo beccati in completo...
skinny guy in a suit
... (lol ma David in quella
mise
non lo batte nessuno)!
Visto che Giorgino è piuttosto lento quando si tratta di cambiarsi, abbiamo deciso di aspettarlo nella Hall e da quì io ho iniziato a credere di vivere in una specie di sogno... alla reception c'era una
rossa
e non una comune
rossa
ma Felicia Day (
imdb
) ma non ho detto nulla perchè sembrava troppo assurda la cosa ma mentre uscivamo fuori ho incontrato altre tre faccie conosciute Zachary Levi (
imdb
) , Adam Baldwin (
imdb
) e Dichen Lachman (
imdb
)e beh, lì non potevo certo sbagliarmi... o avevo preso un colpo in testa bello forte oppure era vero... e a quanto pare stavo bene... ho avuto la converma quando la mia espressione interrogativa ha incontrato quella dei miei tre compagni di viaggio! Beh per iniziare iniziava parecchio bene direi...
Appena arrivato Giorgino abbiamo deciso di tenerlo all'oscuro della presenza di Dichen che era uno degli ospiti a sorpresa, ma una delle sue amiche ha rovinato la sopresa e da lì ha iniziato a ripetere il nome di Sierra(DollHouse) in continuazione
squeeeando
come un pazzo! :D awww come lo capivo... cavolo Zachary Levi... *_________* (devo trattenermi dallo squeeare ancora ora XD) la televisione non rende giustizia a quell'uomo e al suo sorriso! Comunque abbiamo preso le foto da farci autografare e poi siamo rimasti in attesa della serata di apertura in cui
Sean Herry
ha presentato questa marea di attoroni e ad ogni nome ero sempre più incredula ed excited:
Jonathan Woodward
,
Dominic Keating
,
Georges Jeanty
,
Tom Lenk
,
Mark Sheppard
,
Miracle Laurie
, Dichen Lachman, Felicia Day, Adam Baldwin, Zachary Levi e Summer Glau (
imdb
)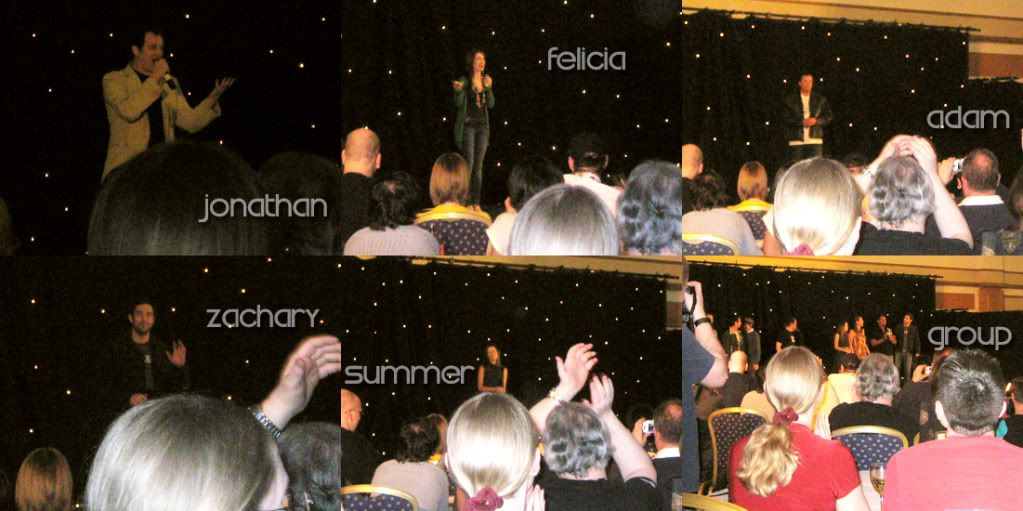 (Sorry per le foto, non sono il massimo :( )
Dopo la presentazione per riprenderci abbiamo optato per un poco d'alcool... ci voleva proprio lol! Siamo rimasti nalla Hall ad atatccare Giorgino con le macchine fotografiche e Morry ha finalmente visto tutte le foto del suo cellulare, ci sono stati racconti di squarci di vita vissuta mentre nell'altra stranza un gruppo di pazzi ballava la versione remixata di
Doctor Who
.
(più tardi quella sera con un minimo di alcool in circolo si è deciso si aggiungere una nuova parola al colcabolario italiano/inglese - Inglese/italiano: Sean Herry--> Coglione, e questa e la siamo portati dietro per il resto della vacanza dicendoci cose de tipo "non fare lo Sean Herry" o "che Sean Herry sta strada per la Bad Wolf Bay")
Quando ormai il solo restare seduti era diventato uno sforzo sovraumano abbiamo deciso di andare a dormire! Prima di addormentarci però io e Laz abbiamo deciso di guardare la TV e ad un certo punto ho temuto di morire dalle risate perchè abbiamo trovato casualmente il
Justin Lee Colins Show
con come guest
John Barrowman
che si è messo a parlare di
Shark Attack 3: Megalodon
, un film di cui lui si vergogna parecchio, e che aveva già citato in un'altra intervista in TV parlando di una battua in particolare e questa volta hanno fatto vedere la scena incriminata e John se la rideva come un pazzo. Oddio solo a pensarci torno a ridere! XD

Il giorno dopo alle 9 iniziava la sessione foografica e, diamine, avrei fatto la mia PRIMA foto in assoluto con una persona famosa ed ero parecchio in crisi, non sapevo bene cosa dovevo fare e mentre la coda verso Zachary si accorciava sempre di più io continuavo a ripetermi in testa la frase "Can I hug you?" e davvero pensavo che non ce l'avrei mai fatta e invece appena ho incontrato i suoi occhi sono riuscita a far uscire le parole e lui ha risposto "Of course you can." e mentre mi trovavo tra le sue braccia ha aggiunto "awww, we hug". Ero tanto sconvolta che ho sbagliato strada e per uscire e quando ho raggiunto gli altri, lo ammetto: ho pianto un pochino per l'emozione, ma dai era del tutto "normale" no? Beba mi ha asciugato gli occhi e mi hanno lanciato nella fila di Adam Baldwin ma ormai ero stra sicura di me, e figurarsi, ormai ero un'abitué delle photo session, infatti mi sono abbracciata pure lui dopo essermi (non so perchè) presentata XD (però aww quando mi ha detto "Hi Erika" stringendomi la mano)
Dopo le prime foto siamo andati ad ascoltare i deliri di Jonathan e Dominic e poi ho fatto le ultime due foto della giornata con Summer e Felicia! Entrambe adorabili e completamente diverse. Summer fa quasi paura da quanto mette involontariamente in soggezione e più ti avvicini più hai paura di romperla con il solo pensiero, mentre Felicia è adorabilmente pazza, parla tantissimo e solo a vederla ti senti a tuo agio tanto che ti verrebbe da prenderla a braccetto ed andare a prendere un caffè!

Dopo le foto sono tornata ad ascoltare le risposte alle domande per Zachary e Adam e anche lì è stato da morir dal ridere, Zach parla tantissimo mentre Adam sembra quasi timido!
Sono stati super adorabili. Qualcuno poco prima aveva chiesto loro di darsi un bacio vista la chemistry sul set e, ovviamente, non avevano accontentato la richiesta ma in risposta ad un'altra domanda - che non ricordo ma era qualcosa del tipo "com'è il vostro rapporto fuori dal set?" o forse "vi piace lavorare insieme?" - Adam ha raccontato di una volta in cui ha portato i suoi figli sul set e si sono messi a seguire Zachary ovunque ed erano adorabili, i bambini e Zach, e il fatto che abbia conquistato i suoi figli gliel'ha fatto ammirare ancora di più e ha conquistato completamente anche lui, alchè Zach ha risposto in modo adorabile a sua volta e visto che la cosa stava diventando troppo pucciosa Zach ha aggiunto "Questo è l'equivalente del bacio che volevate prima" e si sono messi a mimare un bacio da lontano! Adorabili!
La maggior parte delle domande erano per Adam per via di Firefly e della sua storia con le Con ecc ma quando Zach prendeva il microfono non ce n'era per nessuno! Avrebbero dovuto lasciarli su quel palco per tutto il resto della giornata!!!
Subito dopo c'è stato il turno di Summer che, cucciola, era tutta timida e sembrava non sapere cosa fare! Così diversa dai ruoli che interpreta! *________*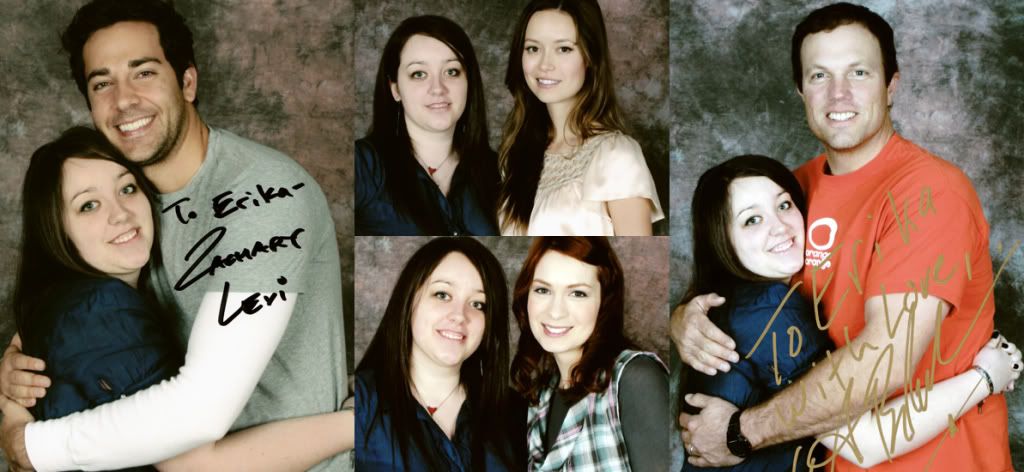 Poco più tardi c'è stata la sessione per gli autografi, nel primo gruppo io avevo solo una foto di Felicia da farmi firmare e il DVD di Dr Horrible (che Laz mi aveva regalato per il compleanno) essendo la prima del gruppo a parlare con lei sono riuscita a rimanere un pò lì a chiaccherare, mi ha chiesto appunto di Dr Horrible, se ho visto The Guild e da lì è uscito l'argomento Italia e subito mi ha detto che si era scambiata delle mail con un ragazzo italiano per i subs della sua serie e io le ho detto - alla Carramba che sorpresa - che Francesco (Laz) era alla lì e lui si è materializzato alle mie spalle con gli altri e lei è stata adorabilissima e parlava parlava parlava! Awww si fermava solo per firmare gli autografi perchè non riusciva a fare le due cose contemporaneamente! Adorabilissima!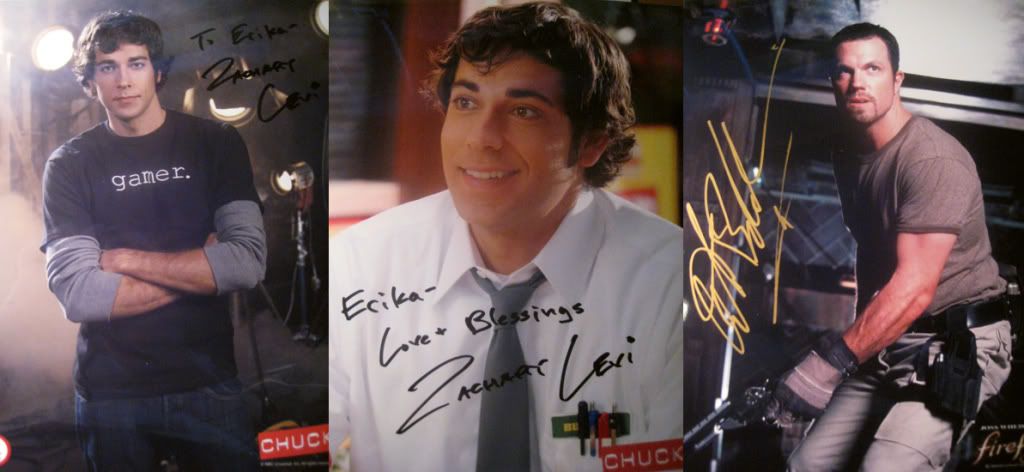 Il giorno dopo ho fatto un'altra foto con Zachary ma questa volta niente lacrimoni per fortuna e poco dopo Jonathan e Dominic sono tornati sul palco e con tanto di cappelli di carta hanno improvvisato un battesimo alcoolico... e fu così che cambiai religione! Ora faccio parte della Church of the Eleventh Finger. Siamo stati tutti battezzati con un sorso dalla Whiskey Vision 2009 (una macchina fotografica in modalità video attaccata con lo scotch alla bottiglia LOL), segno della croce sulla fronte - sempre con il Whiskey - e un biscotto! LOL!
Dopo una scena del genere una foto con Jonathan era d'obbligo!!! Per ora non ho ancora quella foto (l'abbiamo fatta insieme io e Morry e appena la scansiona me la manda) ma posso giurarvi che vivere quella sessione è stato esageratamente LOL! Appena ci siamo avvicinate si è presentato prendendoci la mano e non so ancora ora bene come ci ha legato a lui e ci si è avvinghiato, il fotografo ha chiesto di fare un'altra foto che è stata lievemente più seria e fino alla sera sono stata preoccupata perchè temevo che non avrei mai visto la foto dell'aggrovigliamento e invece ci sono state date entrambe YAY!

Al pomeriggio toccava a Zachary parlare (con
Thomas Dekker
che non è potuto esserci) ma la sessione non si è svolta come il giorno precedente! Ha deciso di portarci TUTTI da Subway con l'obiettivo di salvare Chuck, aveva già accennato all'argomento il giorno prima ed è stato di parola.
Arrivati a destinazione credo che quei poveri Subway!guys abbiano perso 10 anni di vita in un colpo. Immaginate di stare nel posto più tranquillo del mondo, seriamente da lì in quei giorni avevo visto passare davvero davvero poca gente, e vedervi arrivare d'improvviso non so quante persone ma almeno 450 - robabilmente molti di più - aramte di telecamere, macchine fotografiche e... con parecchia fame.
Zachary si è fatto fare il primo panino e poi è andato dietro al banco e ha iniziato a farne lui per tutti! E' stato fantastico e dolcissimo!!!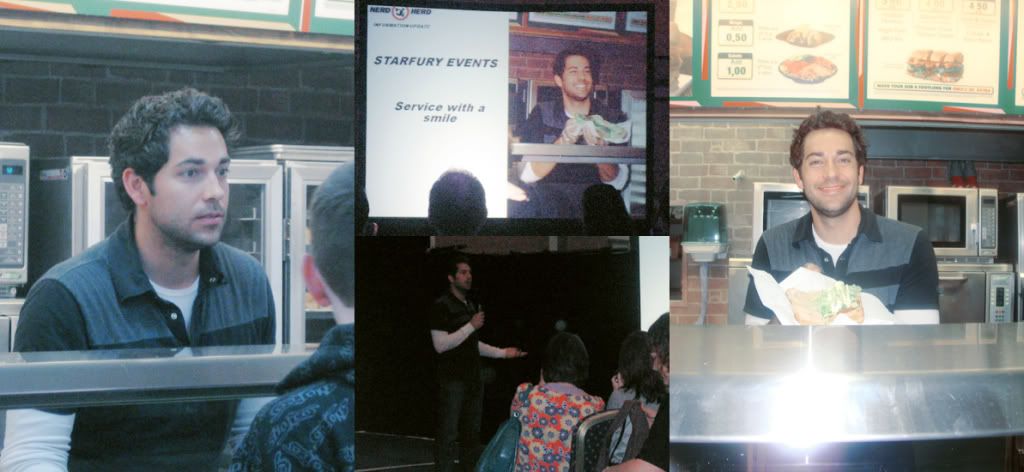 Il pomeriggio c'è stata la sessione aurografi con
Summer, Zachary, Adam, Miracle e Dichen
. Quando sono arrivata davanti ad Adam mi ha detto "Hi gorgeous" mi ha fatto al dedica sulla foto e parlandogli gli ho detto che lo adoro e che dal vivo è "so huge"! LOL
Poi sono passata da Zach a cui ho detto che è stato il primo persoaggio famoso con cui io abbia mai fatto una foto e che era la mia prima con e lui ha fatto YAY e c'è stato un meraviglioso "Give Me 5", Miracle era pucciosissima (durante le sue sessioni ha suonato l'ukulele con il marito e una volta con lei hanno ballato sia Felicia che Dichen... lol Felicia era una cosa indescrivibile... non sapeva cosa stava facendo e faceva delle smorfie meravigliose) e le ho detto che
Dollhouse
non è ancora arrivato in Italia ma che comunque lo seguo e lei era tutta lol al sapere che anche in Italia downloadiamo, non era molto sconvolta dalla cosa visto che il pomeriggio sui mega schermi era stato trasmesso l'ultimo episodio andato in onda in USA e ovviamente era scaricato (così come la 2x01 di
Chuck
e 3 puntate di
The Big Bang Theory
lol) e lei e Dichen erano tra il "pubblico".
Era l'ultimo giorno e la sera abbiamo dovuto salutarli, Beba mi ha spinto ad avvicinarmi a Zachary per salutaro ma l'ho mancato per un pelo e presa da non so cosa
(forse la stessa cosa che mi ha fatto urlare alla guardia del corpo di David di venire a fare una foto con noi a Stratford lol)
sono andata da Adam, gli ho parlato, l'ho ringraziato e poi l'ho abbracciato. Ci siamo spostati poi nella hall a parlare tra di noi. Ad un certo punto dall'altro lato del corridoio vedo Adam e appena incontra il mio sguardo apre le braccia avvicinandosi come per dire
"come here"
e io cosa avrei dovuto fare? Snobbarlo? Eh no! Mi ci sono fiondata dentro! Awww non dimenticherò mai quel profumo di pelle misto birra! Me lo sono tenuto stretto per un pò gli ho detto
" Aww I love you"
e lui ha risposto
"I love you too"
lol! Poi gli ho preso la mano e gli ho detto
"Come in Italy with me"
lol! (In certi momenti metto proprio in stanby il cervello lol) e lui lollosissimo mi ha detto che in italiano sa solo la frase "cosa costa quella macchina?"
(lol! Adoro sentire gli americani/inglesi parlare italiano!
) Poi l'abbiamo risalutato e sono riuscita a dare un ultimo abbraccio anche a Zachary.
La mattina dopo ci siamo imbattuti in una Felicia semi priva di caffeina e poi siamo partiti alla volta di Cardiff!
This was my first Con! I think that it was pretty good... no... it was AMAZING!! A fantastic experience! I was so lucky and the luck was not over... you'll read about it in the next post! YAY :)

Current Mood:
mischievous
Current Music: Wicked - Finale