Here I am with the second part of my trip! (
HERE
the first part)
The part that, maybe, all my dear flist waited for:
Cardiff
!
But first I have to say that I hate
Lost
's writers... why him... WHY damn you! I catch up with some tv shows yesterday. I watched the last two episodes of
How I Met Your Mother
and I loved 'em! In 2 weeks the finale! I can't wait for it! Then two episodes of
Robin Hood
and I have to say that I don't like Isabella at all, and not because of all the Marian's story but because I love Kate but I think that she will end up with Much or Alan and not with Robin... I dunno exactly why but I think that Rob'll die in the end! Uh and about the Sheriff I knew about it but I didn't expected the last bit O___o! And I saw two episodes of
Desperate Housewives
and now the thing is finally becoming interesting! I really hope in my ship (Mike/Susan) for the season finale as every year! And of course Lost... But WTF why him? I'm so sad :(
But now let's talk about Cardiff! Like the last post, a sum in english and a recap in Italian sorry sorry sorry, if you want it in english pay me a teacher! XD And
ATTENTION
! If you don't want to be spoilered about Doctor Who's cast in the finale go away!!!
(hoping to find the Doctor)
for take a look at the past locations, I really wanted to see the
Bad Wolf Bay
and, I admit that is more beautiful that I thought! Before to start properly I have to take a step back and tell you about a discussion in our forum (
mylastmistake.org
): few months ago
mrbartleboom
(Marky) found a place for karaoke in Cardiff, I thought if would be fun go to karaoke all together so the karaoke and the Bad Wolf Bay were the two things that I expected from Cardiff, nothing more...
Few months ago I was sure about one thing: if David Tennant is in Cardiff I'll met him... but the time passed by and the firsts of april internet was full of reports about Doctor Who and a particular return and they continued to shoot and I was al
WTF why now
and my hopes falled apart.
The first day we saw a lot of beautiful locations in town, near home and... wait for it... our apartament was near to David's... I mean 5 min walk! So lucky!!! We saw the bay, is beautiful and with all the
Torchwood
locations, we saw so many places (watch the pictures below) and the day after we went finally to the Bad Wolf Bay and it's amazing a place so stunning, was raining till the morning (we saw Martha's house, Sarah Jane's, the church in The Stolen Earth and other places) but after few minutes in the Bay the sun came out and all aroun us was shiny! AWWWW wonderful! We played a lot, we ran, we try to shoot some scenes from Doomsday (I want to see the tapes, it must be hilarious! XD) my friends have a lot of pic about the beach, we stayed there for hours, I took a stone and I wrote on it
BAD WOLF BAY
and now it is in the bay... maybe the tide took it away... anyway...
The day after we went to the Powell Estate, in the locations of turn left and in the afternoon we saw on twitter that something was happening in town so we went to the city all and met
Alun_Vega
a guy who knows every thing about locations and stuff. Marky saw him at the city all and recognized him so I went to him and we had this funny conversation:
E "Hi, er, are you Alun Vega?"
AV "Yes I am"
E "Great, I follow you on twitter... and physically too"
AV "Uh... creepy"
LOL He told us that he usually follows people (Who realted), was strange to be followed! LOL
And now try to guess where was the location??? Yes, the
Tiger Tiger
... aka the karaoke that we had choose months ago... isn't it bizarre? Beba and I came back with lunch we saw David Tennant ♥♥♥ in The Doctor's clothes ran into the Tiger Tiger and few minutes ago came back with John Barrowman (not as Capitan Jack) and Russel Tovey (not as Alonso in VotD) and we were all:
OMG, I'm alive or not? Please tell me that I'm alive!
We waited and 30 minutes after David/Doctor was back with John as Jack and maybe
Russel Tovey
as Alonso, Im'm not sure about it!
In the building were, with David and the others
Benjamin Cook
and
Julie Gardner
. (You can find all the pics
HERE
) in the while a lot of aliens cames in, so maybe is a sort of Shadow Proclamation Meeting(???) and is on a ship(???) we'll see in December! We also saw John's dog and his car... the
numberplate is so funny (in in a picture below) JB (his name and surname) 05 (Jack's first appearance) Jak (LOL)
That night Marky and I went out for a midnight walk and we saw Torchwood and the Bay by night and we went below David's place but we were embarrass so we ran home imediatly! was fun thò. And the day after we left the apartament for London... but I'll tell you about it tomorrow! :)
I hope you enjoyed this sum :) and now take a look at the pictures below! :D [and if you wanna follow me on twitter:
Erychan86
]
And btw, look:
The Sun
and
Wales Online
we're famous, we're the bunch of people in the background! lol!
Eccomi con la seconda parte e devo ammettere che questi tre giorni sono un pò incasinati nella mia mente anche perchè riesco a focalizzare bene solo due cose: il pomeriggio alla
Bad Wolf Bay
e il
Tiger Tiger
.
Prima di iniziare per bene ho bisogno di prendere il mio TARDIS e portarvi indietro di qualche mese, precisamente nel giorno in cui Marky spuntò sul forum proponendo una serata al Karaoke a Cardiff,
che idea grandiosa
pensai; alla fine a Cardiff come diavolo avremmo potuto occupare il tempo apparte girare per ex locations? (Beh l'unica Location che avevo in mente era la Bad Wolf Bay lol) Marky postò il link del luogo designato e rimase lì a fare la muffa fino a pochi giorni prima di partire. Ora possiamo tornare al 27/4... Ecco vi vedo già lì a leggere e dire "E questo che cavolo c'entra?" Abbiate un pò di fiducia dai! Sempre lì a non fidarvi lol!
Così lunedì mattina abbiamo lasciato tristemente l'Hilton e abbiamo preso un treno per Cardiff.
Il treno più piccolo del mondo tra l'altro lol!
Alla stazione ci saremo poi riuniti con Marky (YAY).
Dopo aver recuperato il quinto membro della gang (Giorgino è dovuto tornare a lavorare dopo la Con) ci siamo diretti all'appartamento, sì un appartamento, ci siamo trattati bene! Lo spostamento non è partito nel migliore dei modi, la strada dalla stazione al complesso era particolarmente... inquietante... già di giorno, figurarsi di notte!!!
Ci sono stati piccoli problemi tecnici anche per avere le chiavi dell'appartamento ma a quel punto mi sembrava tutto normalissimo, con la fortuna sfacciata avuta alla Con un pò di sana sfiga ci voleva anche! Poi io già da Cardiff - a parte la Bad Wolf Bay - non è che mi aspettassi chissà che... l'idea di incontrare David/The Doctor era ormai svanita dopo quei mega set reports attorno a Pasqua; ogni, volta che aprivo il reader di Google, prendevo lo schermo tra le mani e urlavo:
"WTF ma perchè oggi maledetti, aspettate qualche giorno a girare VI ODIOOOOOOOOO"
e cose del genere, quindi la gioia di Marky tutto excited e sicuro che saremo riusciti nella nostra impresa in soli tre giorni non riusciva a contagiarmi. C'è da dire anche che, la settimana prima del nostro arrivo, era piombato tutto nel silenzio.
Alun_Vega
(che tutti appassionatamente seguivamo su
Twitter
) non aveva nessuna news interessante sulle locations. Ormai temevo che avessero girato già tutti gli esterni possibili. :(
Preso possesso dell'appartamento (YAY per tre giorni io e Marky siamo stati roomies come nei nostri viaggi mentali relativi al futuro) - che tra l'altro era una cosa spettacolare: tre camere, due bagni e un salotto+cucina gicantesco -...
Ery's approves XD
...siamo usciti alla volta di qualche ex locations. Ci siamo diretti immediatamente verso quello che per me è solo
Torchwood
e durante il tragitto ci siamo guardati un pò intorno e... ok quì probabilmente qualcuno di voi vorrà uccidermi... cosa abbiamo visto dall'altra parte della strada dietro qualche casa? LOL il complesso di appartamenti in cui vivono
David Tennant
e
John Barrowman
XD, giusto la sera prima Laz mi aveva chiesto se per caso sapevo dove viveva David (se per caso avessimo voluto passare a fargli un saluto lol) e avevamo solo la foto del complesso e si sapeva solamente che viveva vicino alla Baia, avevamo cercato un pò nella rete ma non avevamo trovato niente, ed ora era lì, più bello che mai a pochi minuti da casa a piedi. Ho quasi strappato un braccio a qualcuno quando me l'hanno fatto notare.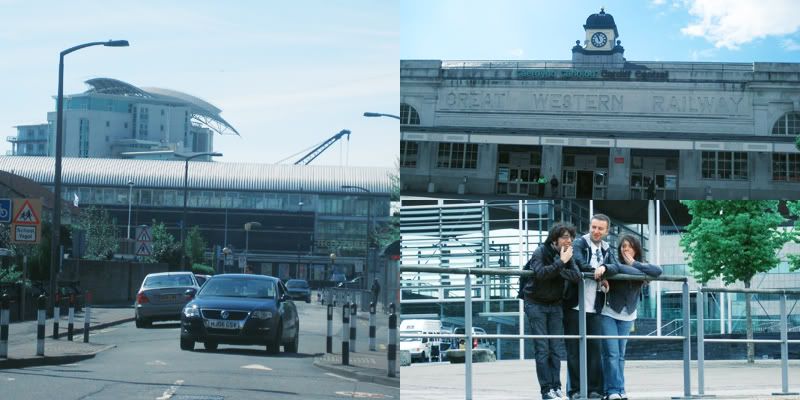 Foto #3 ©
river__
Casa di David, la stazionee noi che facciamo gli idioti interpretando la scena finale di The Last of The TimeLords! XD
Siamo arrivati al
Torchwood
trovando per strada una locations di
Chrismas Invasion,
uno dei palazzi su cui salivano le persone controllate dai Sycorax nel primo episodio che vedeva David nei panni del Dottore.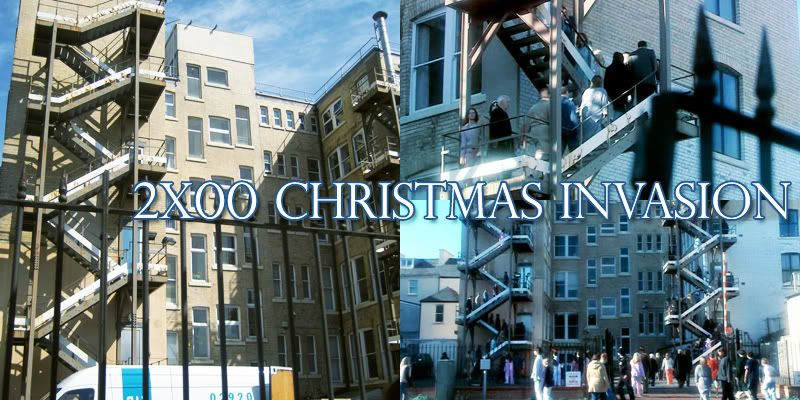 Non so che tipo di telecamera o persone usino per girare qeulli di DW, ma tutto quello che abbiamo visto sembrava moooooolto più grande in TV rispetto al vivo, l'unica cosa della stessa grandezza probabilmente era l'esterno di Torchwood!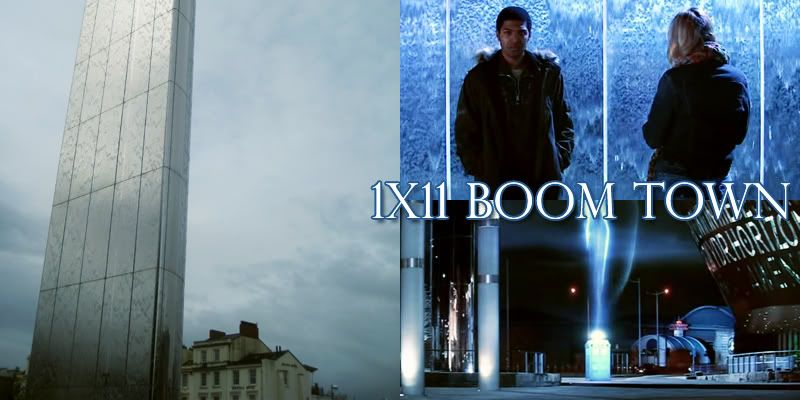 La Baia è davvero splendida, e non lo dico solo perchè ha tanti momenti lagari a DW/TW o perchè il primo approccio a Cardiff con la strada inquietante non è stato dei migliori :) è proprio una bella parte della città!
Dopo il primo giro di foto e di
"Guarda là, è il posto in cui Nine portava a cena Margareth" "Uh guarda là lì dentro c'erano Gwen e Rhys"
e
"Oh ma guarda come si vede bene casa di David da qui"
,(XD) abbiamo deciso di andare a cercare un posto in cui cenare ma Morry e Laz avevano tramato un percorso particolare per incontrare casualmente un bel pò di luogni noti e per far dire a noi altri
OMG
ogni cinque minuti.
E così per strada ci siamo imbattuti in diversi posticini. Ecco una carrelalta (sperando di non sbagliarne l'ordine di apparizione):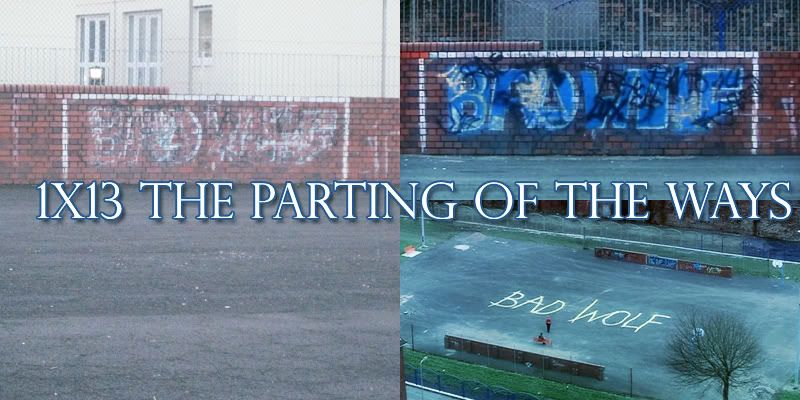 La panchina non c'era più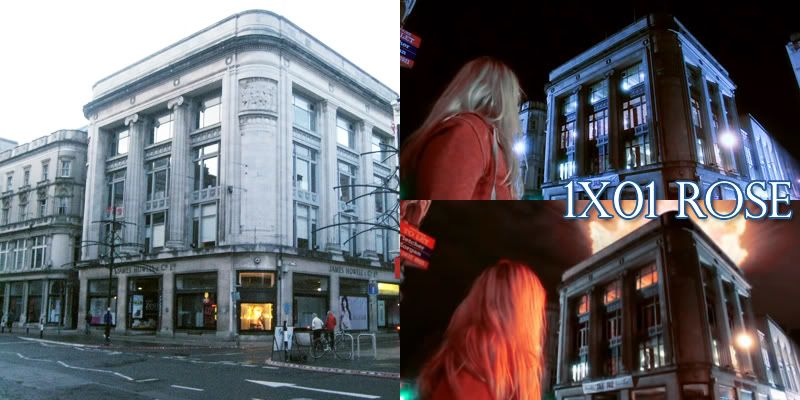 A quanto pare non è esploso LOL

Anche il centro di Cardiff per quell'ora non era proprio il massimo! Anzi... Abbiamo avvistato un ristorante italiano ma non siamo riusciti ad entrare... fisicamente... Laz non è riuscito ad aprire la porta quindi abbiamo optato per il cinese YAY, dopo tutti i panini di Subway ci voleva proprio!

La sera, dopo cena, non ricordo assolutamente cosa abbiamo fatto, so solo che prima di andare a mangiare nell'appartamento ci siamo visti il DVD di Dr Horrible, sì avevamo il lettore DVD e Sky *________* e una TV enorme (non che ci sia servita eh... però... tanto per vantarsi un pò XD), niente, non riesco a farmelo venire in mente, magari abbiamo visto qualcosa alla tv prima di crollare. Ricordo solo che prima di addormentarci io e Marky abbiamo scritto verbalmente il finale di 90210 e metà season 2 lol! Ci siamo ripromessi di trascrivere i punti cruciali e di consegnarli in una busta sigillata a Beba ma ci siamo dimenticati...

Martedì, il giorno dopo, la mattina abbiamo girato altre locations in attesa che si abbassasse la marea alla Bad Wolf Bay... nel mentre c'è da dire che controllavamo insistentemente twitter per vedere se Alun Vega postava qualche news ma a parte una probabile scena in un castello con gente che non era riuscito a riconoscere (mi pare) e un pò di movimento in centro non c'era nessuna news rilevante e ormai era il secondo giorno, le speranze - se ancora ce n'erano - erano svanite completamente, o perlo meno le mie...

Ecco un'altra carrellata di locations: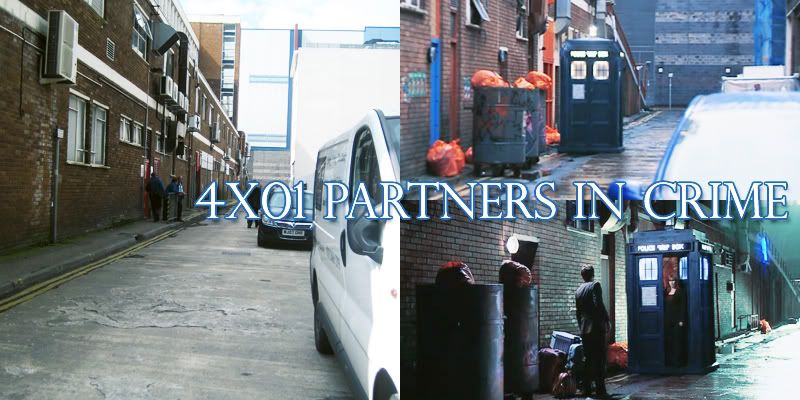 Il vicolo in cui posteggiano Donna e Ten
Da notare come nelle riprese di DW sembri più grande di quello che è
Foto #2 ©
river__
A quanto pare la strada vicino alla chiesetta era già stata usata quando Martha nel finale della season 3 sfrecciava per le strade fuggendo dagli uomini di
John Simm
ehm
The Master
.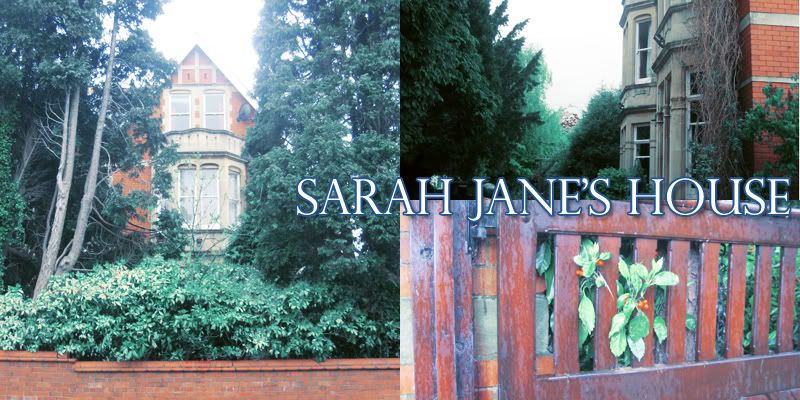 Quì siamo andati solo Marky Laz ed io visto che pioveva parecchio e che non era una location molto imprtante (Marky, ti sento, non dire che lo è perchè NON LO E' XD)
A quanto pare Sarah Jane e Martha sono vicine di casa!
Dopo pranzo siamo partiti alla volta della tanto agognata (e nominata in questo post) Bad Wolf Bay ed è davvero davvero bellissima! Se il paradiso esiste ed ha una forma è quella della Bad Wolf Bay (Quì rose avrebbe da ridire lol)! Il paragone con il paradiso è piuttosto azzeccato anche perchè non è stato poi così "semplice" raggiungerla. Scesi dall'aurobus abbiamo dovuto fare un bel pezzo di strada a piedi sotto la pioggia, continuavamo a vedere la spiaggia dall'alto ma la strada non accennava a scendere finchè la discesa è apparsa... o meglio: uno strapiombo. E anche se sapevamo che si sarebeb trasformata in salita è valsa la pena scendere. Dopo un pò che eravamo lì a fare gli scemi e a rovinare Doomsday (roba cha RTD si rivolterebbe nel letto per mesi XD) ha smesso di piovere e tutto ha preso a brillare! Awww fantastico!!!
C'era più acqua quel giorno!
Lato Rose
Lato Ten
E quì iniziamo a fare gli idioti!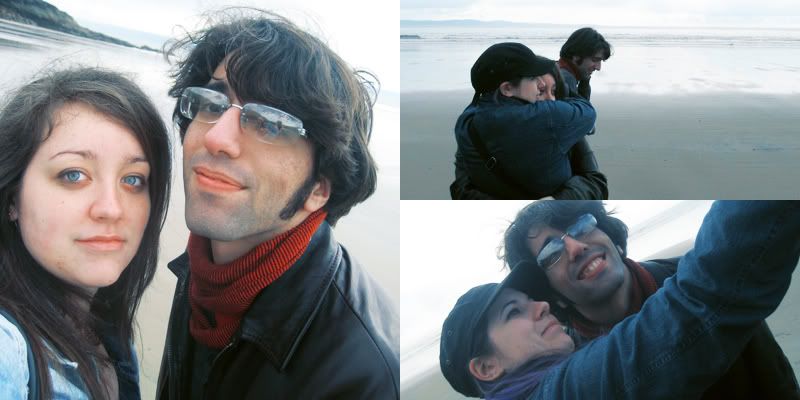 Foto #2 ©
river__
Nella pic con Morry sembro depressissima XD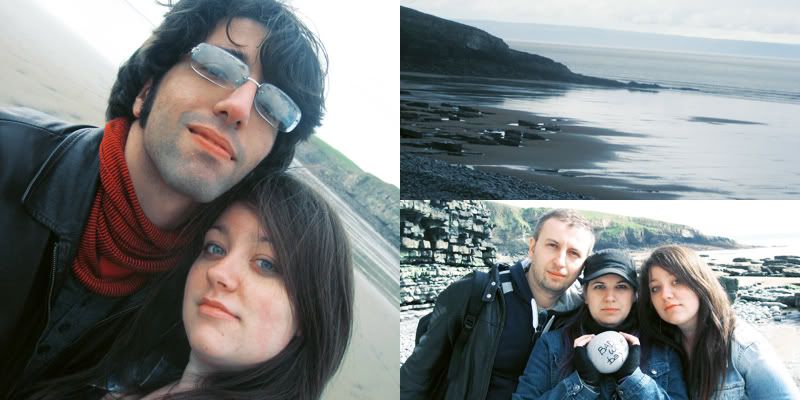 Foto #3 ©
river__
LOL con la pietra in mano abbiamo fatto tutte le combinazioni possibili!
Prima di andarcene abbiamo lasciato un regalino alla Baia! Ho scritto Bad Wolf Bay + data sul davanti di una pietra e sul retro Ten/Rose ...forever! LOL! Chissà dove sarà adesso quella pietra? Chissà se la marea l'avrà portata via! Aw come mi seno romantica a fare discorsi del genere lol!
Siamo rimasti a fare gli scemi per parecchio, non so quantificare quanto ma dev'essere stato un bel pò. Tra Morry che si trasforma in regista e ci "dirige", Beba ricoperta di roba da vestire, borse ecc che diventa costumista, Laz l'addetto alla fotografia e io e Marky (che non siamo abbastanza seri neppure per stare lì in piedi fermi) che impersoniamo malamente David e Billie, dev'errere passata sicuramente più di un ora (ecco, ho chiesto a Morry su msn e mi ha detto un paio d'ore o forse di più)

La sera abbiamo visto (s fa per dire) Lost e Prison Break e la mattina dopo con Twitter sempre acceso e costantemente in aggiornamento siamo andati a vedere qualche altra locations: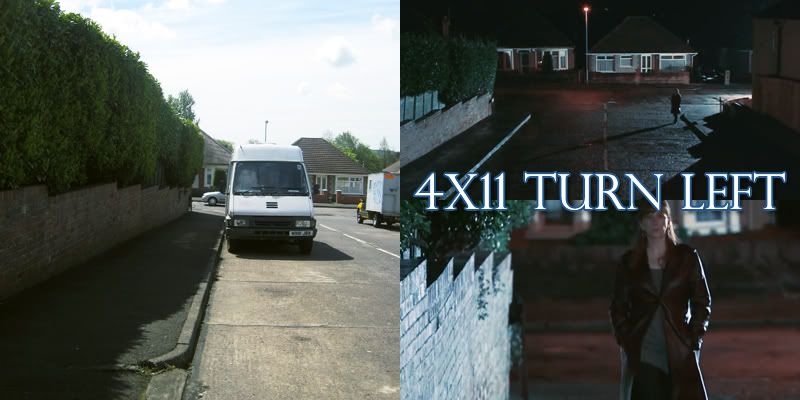 Quì Morry ha una serie di foto in cui tutti giriamo a destra lol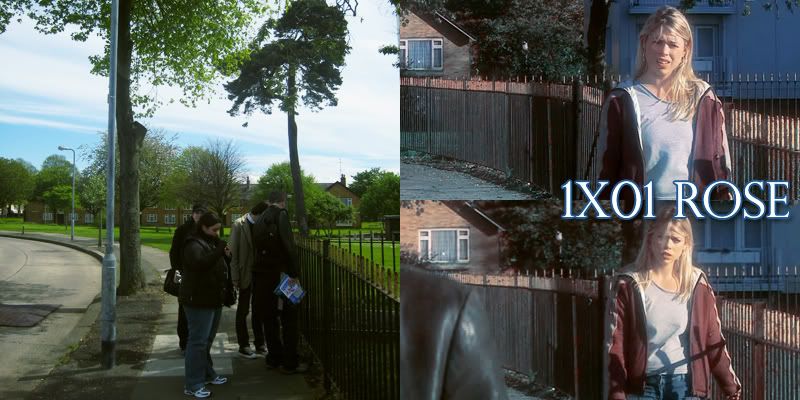 Mentre ci faccevamo i nostri giretti le cose hanno iniziato a muoversi un pò di più in centro e Alun Vega ha detto che c'erano dei camion della BBCone dal municipio allora ci siamo precipitati... che gentile la crew di DW ha aspettato che girassimo tutti i posti che ci interessavano prima di iniziare a girare sul serio!
Arrivati al municipio Marky ha riconosciuto il nostro informatore dalla mini foto che aveva visto la sera prima sul mio twitterberry, twitter ha notificato che si stavano spostando tutti in un altro locale... il Tiger Tiger... ovvero: il locale di karaoke dove volevamo andare! (ed ecco a voi il perchè del precedente viaggio nel tempo) ma vi pare normale? Voglio dire, mesi fa parlavamo di questo posto, l'unico posto che avevamo citato a parte la Bad Wolf Bay e loro vanno a girare dove? Lì! E quando? Quando ci siamo noi! Pazzesco! Una fortuna incredibile visto che da allora ad oggi non ci sono stati più avvistamenti mi pare!
Quì facevamo foto random fingendo di essere turisti... ehm in fondo lo eravamo XD

Abbiamo seguito fisicamente Alun Vega, io e Marky in prima fila chiedendoci se avremmo dovuto parlargli o meno e visto che Laz non voleva andare a disturbarlo sono andata io e c'è stato questo dialogo (in inglese)
Ery: "Ciao, ehm, sei Alun Vega?"
AV: "Ehm sì"
Ery: "Uh bene, ti seguiamo su Twitter... e a quanto pare anche fisicamente"
AV: "Uh creepy"
Gli abbiamo parlato un pò e ci ha spiegato alcune cose, è simpatico era sorpreso dal fatto che qualcuno seguisse fisicamente lui visto che di solito è l'inseguitore e non l'inseguito XD. Ci siamo divisi e siamo rimasti ad aspettare, dopo un pò Alun è dovuto andare a lavorare quindi ha lasciato in mano a noi la situazione, E abbiamo twitterato alla Felicia Day XD (cioè senza sosta), io e Beba siamo andate a prendere da mangiare visto che io dovevo assolutamente andare in bagno e iniziavamo ad avere tutti un pò fame. Il tempo di tornare con lo scatolone di panini bibite e patatine, sedersi e arriva una macchina e da quella macchina scende David/Ten ♥♥♥ e corre all'interno del Tiger Tiger, lì sono morta! E' stato un lampo abbiamo visto giusto un lembo della sua giacca e *puff* era sparito ha fatto gli scalini a 9 a 9!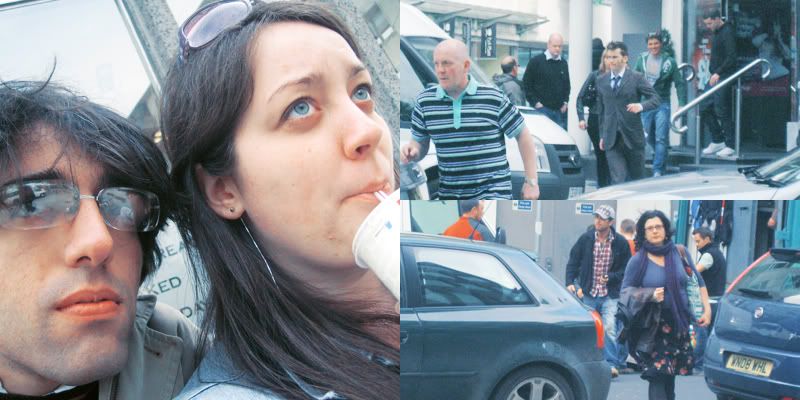 E' uscito di corsa poco dopo ma le macchine fotografiche erano prontissime a scattare (
ecco tutte le foto
) ovviamente eravamo presi tutti da David, giusto Laz, un paio di minuti dopo si è accorto che con lui c'era
John Barrowman
in abiti civili... e poi un'ora dopo abbiamo realizzato che con lui c'era anche
Russel Tovey
... Siamo rimasti comunque lì ad aspettare il loro ritorno perchè erano stati dentro troppo poco! E infatti dopo non so quanto sono tornati e questa volta John era vestito da capitan Jack quindi è ufficiale, Jack è nel finale YAY, e io che pensavo che David si portasse in giro John perchè è il suo BFF (come nella mia fanfic XD)
tazza_di_jo
dall'italia ha twitterato con Ben Cook - era anche lui sul set - chiedendogli di salutarci ma purtroppo era troppo impegnato nell'intervista e nel casino che si stava creando sul set :( Speriamo che abbia almeno detto a David e a John che c'erano degli italiani venuti appositamente per loro XD Beh, in fondo era lì'ultima occasione che potevamo avere di vedere David nei panni dell'ultimo dei Time Lords!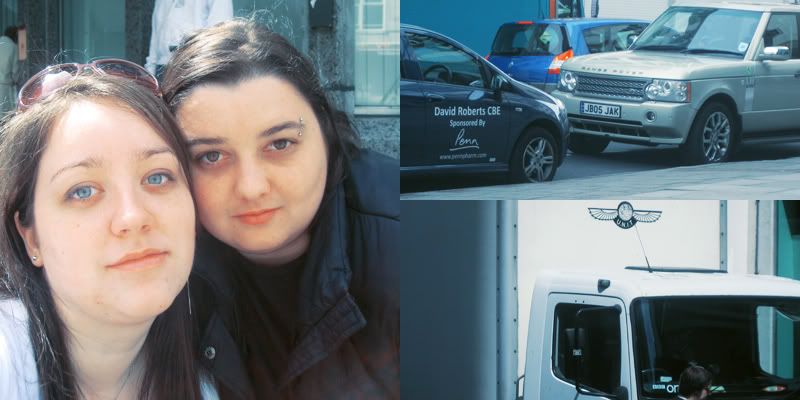 La macchina è quella di John... guardate la targa; JB(iniziali) 05(l'anno in cui Jack appare in DW per la prima volta) Jak. Non può essere certo un caso no? E il camion della BBCone con l'adesivo di DW e la scritta UNIT! Awww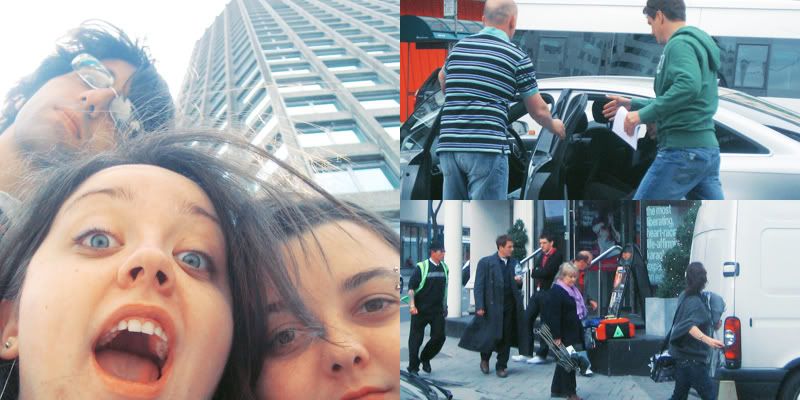 Tra la prima entrata di David and co e la seconda sono entrati una marea di alieni... sono arrivati in un pullmino che ha continuato a girare per ore... povero Cristo... e mai ci fu nome più azzeccato perchè era la copia esatta di Gesù XD... Discorsi religiosi di rito nell'attesa in cui Morry ha detto che la Bibbia è una ff e che per essere interessante dovrebbe essere almeno un pò slash! (quanto ti adoro Morry!)
Dopo qualche ora è uscita Julie Gardner ♥ e poco dopo John, sempre dal davanti, che poi è corso verso la macchina e ci ha fattto
ciao ciao
dal finestrino! Puccioso!
Invece David è fuggito dal retro... quando l'abbiamo visto eravamo troppo stanchi e infreddoliti per cercare di raggiungerlo! Ma eravamo comunque MOLTO soddisfatti dalla giornata! Io nell'attesa ho anche fatto amicizia con quello che penso fosse un paparazzo, mi raccontava storielle e mi insegnava modi di dire che non ricordo... fatto stà che probabilmente è stato lui a fare le foto che sono finite su
The Sun
e su
Wales Online
perchè ci siamo anche noi! Siamo famosi XD
Dopo questa stancante giornata siamo strisciati nell'appartamento e la sera, prima di andare a dormire, io e Marky siamo andati a vederci Torchwood di notte e abbiamo fatto una passeggiata fin sotto casa di David... sembravamo due banditi tutti incappucciati (perchè pioveva) che vagavano per le strade deserte di Cardiff con intenti malvagi XD
Il giorno dopo abbiamo dovuto lasciare l'appartamento, e ci siamo lasciati morire sui tavolini di starbucks alla baia aspettando il coach per Londra! Ma questa è un'altra storia e se ne parla domani! ;)
And tomorrow the last part! :D
...
Current Mood:
geeky
Current Music: Wicked - No one Mourns the Wicked