Ok then, I know, I know I was MIA in those days, and its all
Twitter
's fault. I'm loosing my mind over it. Lol, I'm kiddin' is not because of it of course... I had to do loads of things in those days and when I was at home I was too tired so... But now that I'm here, sit on my chair and a little bit sick (don't worry about that, I can survive it's only my tummy) I can finish this kind of "review" of my holidays:
London
! Well, London, - better knows as the last part of the trip - was... well... is London so is always fantastic.
And in London it happenes! Finally... wait for it... I saw Wicked! Oooooh.
Yes, I do, and twice in a day SQUEEEEEEE!
For two night I went to the Stage Doors knowing almost anything about the musical. I only knew that: Oliver was hot, that the musical was a prequel of The Wizard Of Oz, I knew pretty wel the first act (but not so much the second) I knew... very few things...
My fellows were the biggest fans ever so I felt really awkward with my shiny brand new program asking autographs and stuff like that. Oliver asked me if I enjoyed the show the first night and I didn't know what to say... but after the show
I changed
lol! I became a fan too!
And I wanted so badly a program full of autographs and pics with Oliver, Jeremy, etc...
Wicked
is an amazing musical and
you have to go to see it
! I can't say anithing 'cos... it's difficult to describe using words, is amazing and it left you breathless for all the time and when you are out you want to come back in and watch it again and again... and I was lucky (yes, again) cosa I saw it twice in a day and I'm glad of that, and I can't stop to say
THANK YOU
to my friends for bring me there!
In those three days we finally went to the karaoke, and we had a lot of fun singing angst songs... and I saw again the Big Bang <3... and I had again the time of my life. But all the good things... came to an end. I had to say goodbye to my friends and I'm still sad about it!
I love internet, I met 'em thanks to it, and now they're rly important in my life and it hurts that I can't see 'em every tme I want... :( but I know that I'll see 'em again soon! :D
Il tragitto da Cardiff a Londra è stato parecchio lungo ma i miei piedi avevano bisogno di un pò di riposo e ne ho approfittato per far deprimere
mrbartleboom
(Marky) con la playlist del mio BlackBerry... In realtà, segretamente, studiavamo le canzoni da cantare al Karaoke. Non eravamo riusciti a trascinare gli altri al
Tiger Tiger
- o meglio, c'eravamo riusciti ma per altre ragioni - ma questo non ci avrebbe certo impedito di avere il nostro momento di
glorioso angst
!
Arrivati a
Victoria
, però, abbiamo dovuto dividerci. Marky aveva optato per un ostello (e non era il Generator... traditore XD!) mentre noi continuavamo a trattarci bene, ma nostra stanza non era proprio quello che descriverei
il massimo
, era piccolina con due letti matrimoniali e un bagno... Insomma, si iniziava a sentire la mancanza dell'appartamento di Cardiff!
Dopo una doccia veloce abbiamo raggiunto l'
Apollo Victoria
dove, dopo aver comprato il nuovo programma di
Wicked
, ci siamo riuniti con Marky e abbiamo conosciuto
Chiara
e
Manuela
due sue amiche simpaticissime, abbiamo cenato da Nando's - dove ho mangiato il pollo più buono della storia, alla faccia di quelli che dicono che in Inghilterra si mangia male - e poi, usciti dal locale... ta da da daaaaaaan, era giunto il momento:
la mia prima Stage Door di Wicked
, senza sapere nulla se non la storia... e neppure tutta, con il primo atto me la cavavo alla piuttosto bene, ma nel secondo perdevo colpi! Ma, per la serie:
mettiamo le mani avanti che non si sa mai
ho fatto firmare tutto quello che potevo farmi firmare sul programma, con il grande aiuto di Marky, Morry e Beba che mi giravano le pagine per trovare le pic giuste.
Il giorno seguente, dopo la colazione, ta da da daaaaaaaan 2 sorpresona: visto che Morry, Beba e Laz alloggiano sempre/quasi sempre lì meritano un trattamento di favore e così siamo stati spostati in una nuova stanza (e con nuova intendo una stanza fatta da pochi giorni) in un edificio al di là della strada che guarda caso aveva 6 posti letto, due bagni ed era spaziosissima... no, non stò scherzando, è andata davvero così!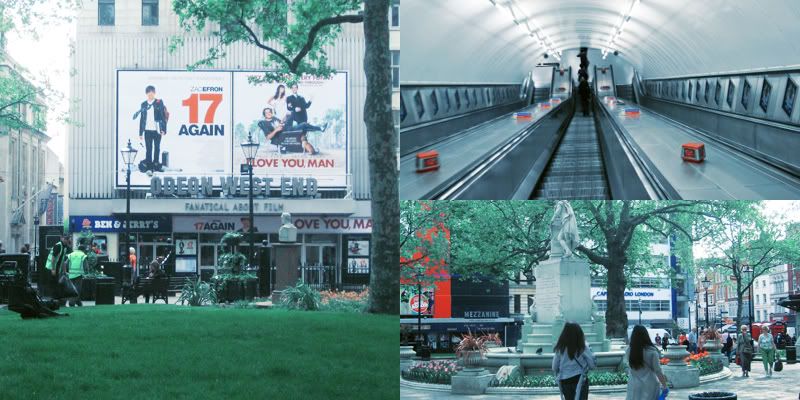 Dopo aver rifatto le valige abbiamo raggiunto il povero Marky in un parchetto vicino a Leicester Square (mi pare) che invece era costretto su un letto a castello a tre piani e giustamente noi abbiamo infierito un pò ma non troppo e poi ci siamo diretti verso Camden Town dove ho comprato la mia nuovissima e meravigliosissima giacca di pelle che tanto mi ricorda il profumo di Adam Baldwin e che nelle prossime foto apparirà di continuo!
Ed ora posso dire di aver preso anche l'autobus a Londra! Awwww! Quanti "check" ho fatto in questo viaggio!
Di ritorno da Camden, grazie ad un ottimo lavoro di squadra tra me e il mio compare, siamo riusciti ad andare al karaoke YAY!
Il locale però era nascostissimo... gli saremop passati accanto, o meglio sopra, diverse volte senza trovarlo ma, come si può vedere dalle foto, questo non ci ha fermato, e infatti ci siamo fatti 1 ora di risate a cantare canzoni super angst!
La sera altra Stage Door e stavolta mi sono fatta fare una foto con Jeremy e una con Oliver (che non posterò mai perchè è brutta brutta :( )
1. Io e Jeremy
2.Oliver al telefono... spero davvero che non fosse il suo telefono con tutti quei robi rosa attaccati XD
3.
Kerry/Elphaba
©
darkbeba
E arriviamo così all'ultimo giorno... come al solito mi sono svegliata prestissimo e, visto che mi annoiavo in stanza e fremevo per correre fuori a respirare Londra, ho rapito Marky (che si era svegliato presto a sua volta ma perchè l'ostello gli faceva paura) e siamo andati a farci un giro.
Siamo andati sotto il Big Bang e poi abbiamo beccato l'inizio del cambio della guardia
E a questo punto, dopo due sere di Stage Doors... dovevo ben vedere lo spettacolo no? Siamo entrati per il matinee e già dopo il primo atto ero senza parole e senza fiato... devo aver deluso parecchio Morry e Beba perchè non ho davvero detto una parola... ma cosa potevo dire? Anche adesso mi viene difficile parlare. Tutto quello che potrei dire è stra-ovvio! E' stato qualcosa di meraviglioso, sapevo che era bello e ne avevo sentito parlare allo sfinimento dagli atri, ma per quanto qualcuno possa mettersi d'impegno non può davvero descriverlo. Era tutto spettacolare i costumi le musiche e le voci. Da quando sono tornata a casa non faccio altro che ascoltare il CD, mi sono anche fatta passare da Beba il CD di Oliver Tompsett (che non è un granchè purtroppo) perchè la sua voce è fantastica! Sono tutti bravissimi ma la sua voce... la sua dannatamente meravigliosa voce.... eccolo che arriva: AWWWWWWWWWWWWW!

E ovviamente a me piaceva/piace anche Boq, non solo perchè Jeremy Legat è puccioso ma anche il personaggio, tutti me lo maltrattano ma poi che colpa ne ha lui? E' solo un pò senza spina d'orsale ma c'è gente che si riduce anche peggio per amore! Sì, sono una forte sostenitrice di Boq! XD
E per la serie: facciamoci una stage door vah, nell'uscire ne abbiamo beccata un'altra ma solo con Oliver e Jeremy... altra foto con Oliver che non mostrerò perchè è ancora peggio della prima ma chissene... prima che se ne vada andrò sicuramente a rivederlo e avrò altre occasioni!
1
Oliver/Fiyero
che sorriso meraviglioso
La sera c'è stato il bis! Ed è stato ancora meglio perchè, a quanto pare, al matinee si trattenevano un poco! Cavolo, per fortuna l'ho visto due volte in un giorno... se non l'avessi fatto avrei cercato in tutti i modi di rimanere almeno un altro giorno su per riguardarmelo!
Dopo cena (se così si può definire mangiare in Chicken Royal appoggiati ad un mini tavolino alla stazione di Victoria) abbiamo dovuto salutare Marky... :'( che è ancora a Londra (maledetto!)
1.
Jeremy/Boq
che è pucciosissimo e carinissimo e continuerò a dirlo per sempre!
2.
Desmond/The Wizard
che firmava tutti i programmi con
Love
3. Marky regala a
Dianne/Glinda
un mini disegno pucccioso e a quanto pare non è la prima volta visto che lei la prima sera l'ha subito riconosciuto *______* che pucciosi!
La mattina c'è stato un altro "addio" con Laz e Morry... se fossi stata un pò più sveglia sarei scoppiata a piangere (ma quello l'ho fatto sul treno per Genova state tranquilli) io e Beba siamo atterrate a Milano partendo da Heathrow (che donne in carriera XD) e poi ho dovuto salutare anche lei :'(
Il visggio verso Genova, da sola, è stato peggio del solito... infatti lì ho aperto i rubinetti :'(

Odio e amo al contempo il fatto che inernet dia la possibilità di conoscere persone così meravigliose che, però, vivono così lontano. Trovi dei grandi amici, anime affini, persone che diventano parte della tua vita, ne sono presenti e partecipi ma non sono tangibili. Finchè sono qualcosa di virtuale è facile conviverci ma quando diventano persone vere... quando diventano qualcosa che puoi toccare e sentire... quando diventano veri amici, ecco, allora la distanza diventa una tortura e un *hug* solo virtuale può fare male.
Ma so che li rivedrò presto perchè infondo non siamo poi così lontani... eccetto Marky (eheh vedi che trovo sempre il modo per dirti di tutto per esserti trasferito a Roma?) che spero di vedere prima del season finale di Doctor Who!!!
And now it's over... I'm at home and today is a week. I have so many Tv Shows to watch that I'm almost glad that we're near the seasons ends... There are some of 'em that I don't want to watch as House for example... I used to love that show so much and now is a torture... I'll wait the last episode and then I'll saw it all in a day!
And I have to study too... buuuu I want to come back... it's sad here :(
So... good night dear flist... I'm going to bed now cos my tummy is killin' me. Read you tomorrow! Have a great night for me too!
Kisses! ;)
...
Current Mood:
sick
Current Music: Wicked - As Long As You're Mine