Hi There! New video and new couple! Say HI to Mitchell(Aidan Turner)the vampire and Annie(Lenora Crichlow)the ghost from Being Human!
This vid takes few days cos I saw the show in (I think) 2 days and was all clear in my mind. I heard this song (Hana Pestle - Need) and I fell in love cos IS AMAZING, isn't it? So I decided to make a video...
I know that I have loads of vids to finish but enjoy this for now!
I'll be back soon with a lot of Doctor/Rose MV (one of then will blow your mind I'm sure!) and one about Barney and Robin from How I Met Your Mother (maybe this one will be the next I don't know yet)
Let me know what you think about those two... aren't they cute? Aww! I can't wait for the new season in Jen 2010!



Annie/Mitchell - Need




by Hana Pestle



Characters:
Annie and Mitchell
Spoiler:
Being Human 1x06
Song:
Hana Pestle - Need (
Lyrics
)
Clips from:
Being Human Season 1
Note:
The song was written for New Moon (the sequel of Twilight)
I hope you enjoy this! (if you want to know about me, my creziness and mi vids folow me on twitter: http://twitter.com/erychan86
)
Description:
The Death is back for Annie but she is in love with Mitchell so she doesn't know what to do. He loves her back but her happiness is more important and - don't forget that - he's a vampire and she's a ghost so their love is impossible (don't ask me why... is impossible cos I love angst stuff and btw Mitchell has his reasons as always, you know... he knows how it works all this stuff so...) so she decides to go and Mitchell goes away but at the end (you know I love "happy ending" too)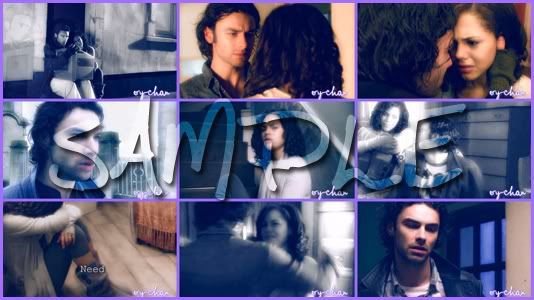 .